The Playground
The Simply Music blog
Showing all 2 results in female musician
Have you met Hazel Scott?
Hazel Scott was a Trinidadian-born jazz and classical pianist, singer, and actor. She was a critically acclaimed performing artist and an outspoken critic of racial discrimination and segregation. Scott was a child musical prodigy, receiving scholarships to study at the Juilliard School when she was…
Written by Gretta Dunn on Oct 14, 2020
'The Hazel Scott Show'." ... she was also known for playing 2 piano's at a time!!, classical music, female, female musician, music, music education, musician, pianist, piano, piano concerto, piano player, piano. She was prominent as a jazz singer throughout the 1930s and 1940s. In 1950, she became the first African American to host her own TV show, simply music, the playground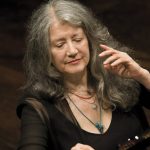 Have you met Martha Argerich?
Born June 5, 1941 Martha Argerich is an Argentine-Swiss classical concert pianist. She made her concert debut at the age of 8 and is considered to be one of the greatest pianists of the recorded era!!

 

 Here's a video of her playing her signature…
Written by Gretta Dunn on Sep 16, 2020