A Repurposed Piano Can Make Art, Furniture & More
Found in: Miscellany & Merriment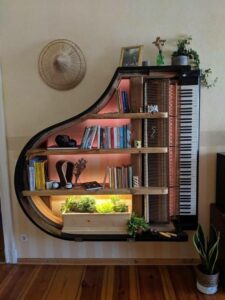 The other day, Leon, Neil Moore's son and my coworker, shared this super cool image of an old repurposed piano in our office chat [We use a software called Slack to communicate across the Simply Music Team]. And it totally inspired me!! This image, plus me being super crafty in nature, had me do a quick little search. Mixed media is my personal preference for art, whether it be found objects incorporated into a piece or collaging multiple items into one. I wanted to see what else was out there – I was so curious what other artists and crafters had come up with.
It did not take much to find some extremely cool-looking things, and to see how easily the piano could be transformed! I have collected a series of pieces that the variety of artisan communities have come up with.
Take a look at the Pinterest board below to see some of what I found!
---
Repurposed Piano: Our Pinterest Board
This board is a collection of 46 pieces, created from repurposed piano parts (plus the occasional organ). There is quite a collection here… from just plain and simple, creative ideas to fun toys and practical items. Check 'em out!
Steph's Fav's
The following are just a few of my favorite pins from the 'Repurposed Pianos' Board. What's your favorite piece?? Would you display some piano derived art in your house?? Lets us know what you think in the comments below!
---
Simply Music's Pinterest Profile
For those of you who are avid Pinterest users or may need an excuse to join, follow the link below to follow us on Pinterest!!
---