Life Coach/Music Therapist Tim Ringgold Interview with Gordon Harvey
Found in: Interviews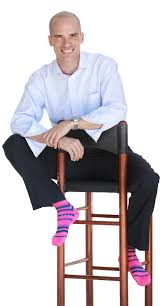 "I get to bring their closest, most private friend – music – into that moment to use it a tool to really serve them".
Tim Ringgold has an unstoppable drive to make a difference in the world through music. In this interview with Gordon Harvey he shares about his work, using a unique combination of music therapy and personal development skills to contribute profoundly in an amazing range of ways, from bringing self-expression to the corporate world to using music to help provide a loving exit for the dying. He also shares stories of the sometimes confronting personal events that shaped his commitment to sharing his gifts.
Read more of Tim's life story, work and 'fabulous socks' here.
Watch Tim's TEDx Talk and other presentations here.
---