Simply Music Teacher – Dodie Brueggeman
Found in: Simply Music Community
As Simply Music's first blind piano teacher, Dodie Brueggeman has had to face many challenges, yet she is a thoroughly successful and greatly loved teacher, familiar to all who know her as unfalteringly optimistic and generous. This profile is a little different in that for reasons you will understand, it features no interview, but includes a contribution from her sister Dixie Cramer, also a Simply Music teacher, and a moving film made for a Washington film festival by a Simply Music student and two friends.
Dodie's experience with music began before birth with a mother who loved to sing as she went about her daily tasks and would often sing to us during our naptime while accompanying herself at the piano. Both our parents would frequently sing for special music in church and our family enjoyed singing round the piano together as Dad played his steel guitar.
By the time Dodie reached the age of seven, her ability to harmonize had developed to the extent that she and I were often called upon to sing for church as well. Our mother had joined a record club so we were introduced to the classics via our hi-fi. Determined we children would learn to play an instrument, our parents enrolled us all in music lessons as location & finances would permit. Dodie's & my instrument was the piano. One of Dodie's favorite pieces, "The Spinning Song", she retained into adulthood.
Diagnosed with Type 1 Diabetes at age eight, Dodie lost her eyesight at age twenty due to diabetic retinopathy two months into her marriage. Playing the piano no longer seemed an option for her, and she threw herself into learning to navigate through life minus her vision. Her first marriage did not survive the changes imposed on the young couple's lifestyle and ended in divorce after just three years.
Several years later she remarried, and she and her second husband adopted a baby girl, Nikki, who became the main focus and joy of her life. Sadly, that marriage, too, ended in divorce and Dodie faced new challenges as a single parent.
Wanting her young daughter to have the opportunity to explore her own musicality Dodie purchased a piano. Later, with Nikki in high school, Dodie began her quest for a way to supplement her disability income. I had started my training with Simply Music, and encouraged her to check it out. Within a short time after completing her training, she had registered a number of students and begun building a reputation as a highly effective teacher with up to eighteen enrolled.
As a blind Simply Music teacher, Dodie faced another new set of challenges which she overcame with creativity and her indomitable sense of humor. She instinctively knew how to encourage and motivate her students, all of whom grew to love her. This is particularly true in the case of the man who ultimately married her, confessing, "I wanted the teacher more than the lessons." Fortunately, with the vast majority of her students, their love for Dodie carried over into their love for piano as well.
While overcoming her own issues in accessing the Simply Music teaching and learning materials, Dodie spent countless unpaid hours making the program accessible to other visually impaired teachers and students. This included the daunting task of learning to read braille music notation. Just one measure of intermediate music could include up to thirty braille characters! Now it is her hope that others will reap the benefits of her labors.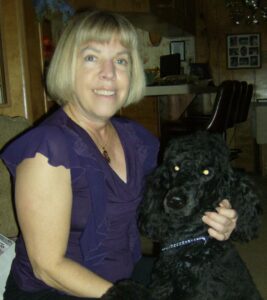 Dixie recently wrote to Neil Moore with news about Dodie:
Dodie had begun having ongoing abdominal pain… but had received a clean bill of health in her Feb. checkup, so figured it was the stress of the move interfering with her digestion. The discomfort only intensified following their move until the pain was quite unbearable. In the tests that followed it was determined that Dodie was in stage 4 of a form of cancer called serous adenocarcinoma. It has invaded her cervix, uterus (which is literally packed with tumors), ovaries, 2 areas in her abdomen & 2 glands in her neck. Treatment will consist of intense chemotherapy, radiation &, of course, surgery.

Because the health care is so poor in Nevada (the doctors were proceeding as slowly through the tests as if this were simply routine), Dodie & her husband, Eugene, in desperation, contacted the Cancer Care Alliance affiliated with the University of Washington. They've had to leave their apartment in Reno & are currently renting an apartment in Seattle for her to receive treatment which will extend her life up to 5 years.
 Dodie is handling this new unwelcome challenge with her characteristically optimistic spirit, determined to do whatever is necessary to deal with the chemo (which will be more intense in its doses than normal) & to try to beat this new threat to her life.
---