Simply Music Student – Isabelle McGrath
Found in: Simply Music Community
What would be a child's dearest dream? Go to Disney? Meet her favorite athlete or movie character? Isabelle McGrath wished for a blue piano. 
At age 8, Isabelle was diagnosed with Hodgkin's disease, a form of cancer in her lymph nodes. While fighting the disease, she was granted her wish and received a beautiful blue piano from Make A Wish Foundation Eastern Ontario, Canada. She also received free traditional lessons so she could play her favorite songs from Barbie and Disney movies. Once she completed her cancer treatments, she started her lessons and realized that learning to read music was not an easy task. After only a few months, Isabelle stopped taking piano lessons.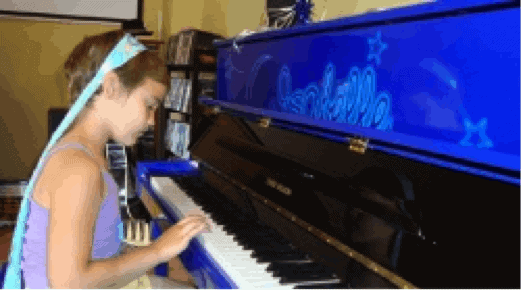 In the summer of 2011, Isabelle's father looked for an alternative method to learn the piano and found the Simply Music website. He contacted newly licensed Orleans, Ontario teacher Brigitte Lachance and in September, Isabelle started playing her blue piano the Simply Music way! Now 12 years old, Isabelle is well into level 4 and Reading Rhythm. With her creative and spontaneous personality, she enjoys improvising songs and writing lyrics. In her latest lyrics project, she wrote a humoristic version of Family Tree called "Nuts in my Family Tree". She was also gifted with a beautiful voice and confidently accompanied herself while singing a Justin Bieber song at the 2012 Piano Allegretto Christmas recital.
Learning to put emotions in the music is definately one of the many challenges in learning to play the piano. It's one thing to know what to play but you also need to know how to play it! However, it seems easier to let emotions be revealed through composition projects, and this is especially true for Isabelle. While still in level 3, she was given a project to create a new Blues riff and composed Blissy (short for Izzy's Blues).
Dreams do come true, don't they?
---