Meet The Team – Jose Rivera
Found in: Interviews
We asked Jose Rivera some questions to gain some insight into his role here at Simply Music, what lights him up musically and some facts that make him the person he is.
Your full name: Jose Benjamin Rivera
When did you start and what is your role with Simply Music? I joined Simply Music in 2012 with the role of "Graphic Designer." I have a hand in creating most of the visuals that come out of Simply Music. It is an enjoyable role and I'm grateful to use my creative abilities to contribute to an organization that has been life-changing for many people throughout the world.
What are your top 5 albums of all time? Here are five albums that I think I will always return to: Neil Young – After The Gold Rush, Fleetwood Mac – Tusk, Stevie Wonder – Talking Book, Ahmad Jamal – At The Pershing: But Not For Me, Beach House – Teen Dream.
Who is your favorite band or singer? Probably Stevie Wonder. He has a song for any mood. And he wrote a song that features a great Jeff Beck guitar solo: "Looking For Another Pure Love" on Talking Book.
Who are you listening to now? Currently, I'm enjoying Jingo by Santana (with his original band) from his first album. This song is like riding roller coaster with guitar feedback and a conga solo.
If you were in a rock 'n' roll band, what would your job be? I would be a bassist. When I was 13, I started playing the electric bass guitar and I have had an appreciation for the bassline ever since.
What song/music style reminds you of your childhood? Music from The Supremes, The Jackson 5, Michael Jackson (Got To Be There), Zapp & Roger, and Santana.
What song do you sing in the shower? I'm not much of a shower singer.
What is the worst song to get stuck in your head? Songs that have a catchy melody but goofy lyrics!
What song/style do you love to dance to? Something faster-paced but not too fast. I'm not a graceful mover, so I'm more likely to cause myself or someone around me to stumble with a slow song.
What was the first concert you went to see? The earliest show I remember going to is a Sunny Day Real Estate concert in 2000 at the Crest Theatre in Sacramento, California. I was 14 years old. It may have not been my first, but it was definitely among the first and a favorite.
What movie can you quote word for word? Jurassic Park—it has been one of my favorite movies since childhood.
What is your favorite day of the week? Sundays are my favorite day because I do things that help me relax and refuel for the upcoming week: I go to mass with my family, disconnect from my tech—especially social media—and stay away from unnecessary work. In general, I just like the Sunday feeling.
What's your strangest talent? I have neat handwriting. It's not that strange.
What is the best dish you can cook? Chicken in salsa verde—I stick with what I know. It is a food that I grew up with (although, my family used the pork variation) and it gives me happy memories about my grandparents and childhood.
Are you a morning or night person? I'm a very early morning person—always before sunrise. Being up very early gives me more time to accomplish things during the day and I enjoy seeing the transition outside from darkness to light.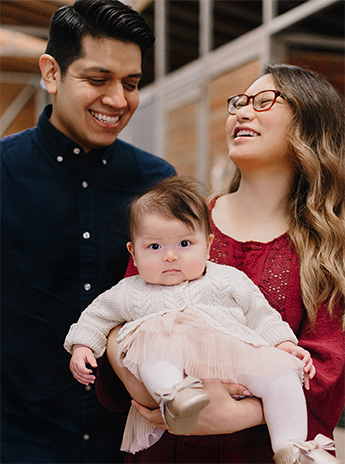 What is the single best decision you have made in your life so far?
Deciding to be baptised into the Catholic church when I was 24 (March, 2008) was life-changing because it has been consistent source of strength and guidance, and it's something that my wife and I have been able to share. In close second: deciding to get married and having a baby.
What was the last experience that made you a stronger person? Being present at the birth of my daughter, Gemma, made me a stronger person. Providing support for my wife–who experienced some complications before and after birth–gave me a boost in confidence to be a leader and support for my family.
---