Hush Music Foundation – The Magic Island
Found in: Miscellany & Merriment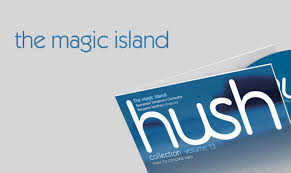 The Magic Island, the latest album in the Hush Collection, will be released in early November 2013 and is the boldest and biggest undertaking for the Hush Music Foundation yet, featuring a full symphony orchestra and twelve outstanding composers.
The Tasmanian Symphony Orchestra and the Hush Music Foundation will present a special concert in Hobart on Saturday December 7th 2013 to launch the album. The concert, featuring conductor Benjamin Northey and pianist Caroline Almonte, will be broadcast live on ABC Classic FM and presented by Emma Ayres.
The composers whose pieces feature on the album and will be performed at the concert are Peter Sculthorpe AO OBE, Brenton Broadstock, 
Ross Edwards, 
Iain Grandage, Paul Grabowsky, Stuart Greenbaum, Maria Grenfell, Matthew Hindson, Elena Kats-Chernin, Graeme Koehne, Paul Stanhope and Nigel Westlake.
"Hospital can be a scary place for children and families". From this basic idea has grown an extraordinary collaboration between Dr Catherine Crock of the Royal Children's Hospital in Melbourne and many of Australia's leading musicians. A physician and mother working with children with cancer, Dr Crock teamed up with musicians of different backgrounds and styles to create music that was soothing and relaxing for the children and their families.
Since its inception in 2003 and through the generosity of performers, composers and engineers donating their time and skills, the Hush Music Foundation has released twelve popular albums of gentle jazz and classical instrumental music that are available in hospitals throughout Australia and for sale nationally and online.
All proceeds from the concert will go to the Hush Music Foundation, which supports children's hospitals throughout Australia.
Hush has launched a Pozible campaign to help fund production of the CD.  You can support the project by pledging a donation.
You can also be in the draw to win 1 of 5 copies of The Magic Island by simply 'sharing' this article with your friends through Facebook. 
---