Devil's Trill by Gerald Elias – Book Review
Found in: Reviews
"Perhaps the power of music is greatest because it is temporal rather than spatial, meaning that once it is heard it is gone forever."
In the novel Devil's Trill, it is obvious that many musicians do not easily blend into society. These gifted few expect more from themselves and others, while not always living in the everyday world. Many have their own eccentricities that in turn allow them to experience and communicate music on a level that is difficult to achieve and understand.
Daniel Jacobus is one of these. He is an excellent musician. However, he has difficulties with people.
Even though blind, he is considered to be one of the best violin teachers alive. Those few who are fortunate enough to become his students are challenged through their technical and artistic expertise to truly create music as the composer chose to communicate through his writing. There is a difference between being technically correct and playing music. If his students refuse or fail to notice this, Daniel does not hesitate in humiliating anyone. If the student quits, Daniel feels that it is for the best.
Daniel is also not a fan of the Grimsley Competition for violinists. This competition occurs once every thirteen years. The winner must not be over thirteen years old and is awarded the privilege of using the "Piccolino Stradivarius" in a concert at Carnegie Hall. The winner this year is Kamryn Vander who is only nine years old. However, the prize violin is stolen before the performance and Jacobus is the most likely suspect, with a motive to take it. Unfortunately, Daniel also met with a rival teacher who coached Kamryn and who is strangled by a G-string from a violin. Guess who is missing their G-string?
Sometimes friends are as valuable as music, and for Daniel, Nathaniel Williams is just that person. He works with an insurance company and specializes in the recovery of stolen musical instruments. Their friendship has endured many years since they performed together years ago. Also, accompanying the two is Daniel's new student, Yumi Shinagawa, who seems to have secrets of her own.  Why is she involved?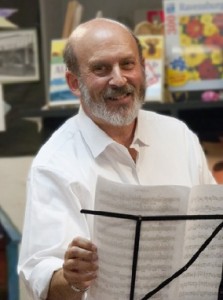 Devil's Trill is an adventure into the world of concert musicians with the challenges of the business of public relations balancing the artistry of music. This mystery does not glamorize the business and the competitiveness in the world of concert music.
The author, Gerald Elias, is a world-class violinist and conductor who wonderfully describes the inside world of concert music while showing awe and respect for the art of making music and still managing to write an excellent mystery.
---