Simply Music Coach – The Vargas Family
Found in: Simply Music Community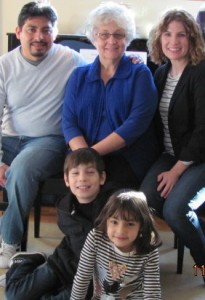 When a student is as refreshingly honest about the peaks, valleys and plateaus of musical life as six-year-old Jade and nine-year-old Ely, their teacher knows they have a great attitude. She also knows that those students have the support of a very special contributor – the Life Coach. We thought it was time to celebrate that most unsung of heroes; the parent, grandparent or other loved one who faithfully supports the student in class and at home, often spending every minute of their playing time at their side, faithfully guiding them through not just the week's tasks, but also the roller coaster of their long-term personal relationship with music.
Simply Music Teachers expect a significant contribution from their Life Coaches. For us, the experience of music lessons is a three-legged stool, with equal weight carried by Student, Teacher and Life Coach. Without any of those three, prospects of maintaining music as a lifetime companion are much reduced.
This issue's Life Coach is actually pretty much an entire family. Dad Ricardo Vargas, Mom Kelly and most especially Grandma Suzie Zigler are a true partnership.
Listen to Jade and Ely's Teacher Sandy Larsen in Omaha, Nebraska as she chats with this exceptionally committed team.
---